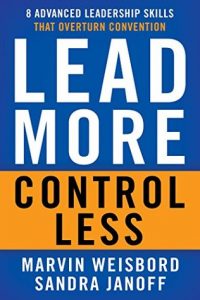 Lead More, Control Less: 8 Advanced Leadership Skills That Overturn Convention (Amazon, Goodreads, Powells, Library) by Marvin Weisbord and Sandra Janoff. Topics: Leadership
Leadership Approach
The leadership approach you'll learn in this very approachable text is one that focuses on structure, rather than behavior, to cultivate a culture of autonomy and self-leadership.
Time Required
At 142 pages for the paperback version, you can get easily through this book in a single sitting or even a busy weekend.
Structure
There are eight main chapters, corresponding with the eight skills presented:
Control Structure, Not People
Let Everyone Be Responsible
Consider Anxiety "Blocked Excitement"
Avoid "Taking it Personally"
Disrupt Fight or Flight
Include the Right People
Experience the "Whole Elephant"
Surface Unspoken Agreements
Each of the chapters includes essential ideas at the beginning, a case study where the skills is applied, and concludes with a summary and specific next steps for application.
Key Takeaways
For me, one of the most useful takeaways from this book is the idea that anxiety is blocked excitement:
Anxiety is the price you pay for constructive change. When the struggle escalates, dialogue is the best investment you will ever make. – page 38, paperback edition
While I think the authors had primarily in person settings in mind, the skills presented in this book are imminently applicable to remote and distributed leadership. And, in fact, they include an appendix specifically addressing how to apply the skills in "cyberspace."
More Like This
If you enjoyed the content in this book, I encourage you to check out other work by Weisbord and Janoff, who are experts in leadership group dynamics and creators of the Future Search methodology:
This post is part of our Book Recommendations series in which we share recommendations of books about leadership, governance, and community building. To discuss the book, leave a comment below or join our Goodreads group.
If you find these useful, and are planning to buy a copy of the book from Amazon, please consider doing so via the links here so we receive referral credit. ThanksI
Header image (c) Alan Levine (cogdog on Flickr).